December 11, 2015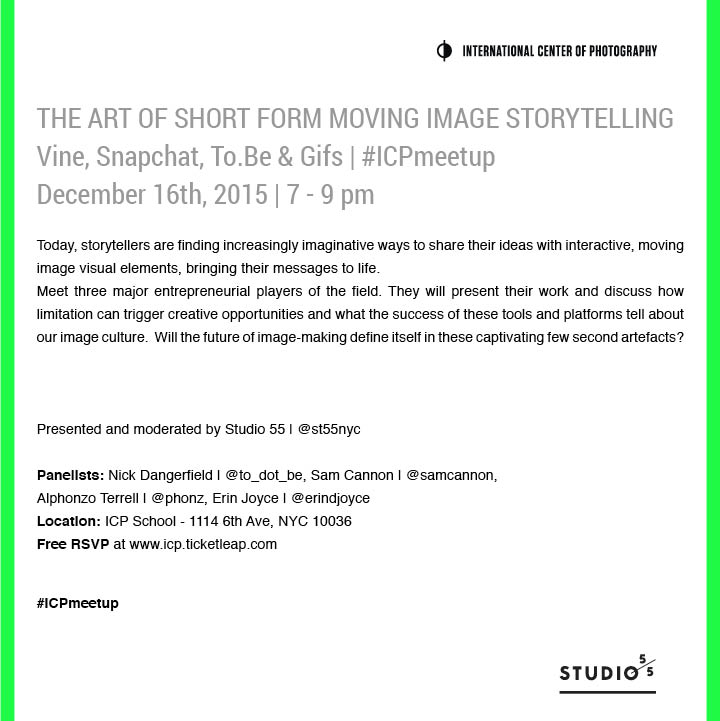 Ready for out last #ICPmeetup of the semester?
For this edition of the fall #ICPmeetup series, we will be joined by Nick Dangerfield - Co founder of to.be, Sam Cannon - Photo & Video Artist, Alphonzo Terrell - Senior Manager, Digital Marketing, Showtime Network and Erin Joyce - Director of Multi-platform Content at Showtime.
This panel will be moderated by us!
#ICPmeetup | THE ART OF SHORT FORM MOVING IMAGE STORYTELLING Vine, Snapchat, To.Be & Gifs
Today, storytellers are finding increasingly imaginative ways to share their ideas with interactive, moving image visual elements, bringing their messages to life. Meet three major entrepreneurial players of the field. They will present their work and discuss how limitation can trigger creative opportunities and what the success of these tools and platforms tell about our image culture. Will the future of image-making define itself in these captivating few second artefacts?
FREE with RSVP! here!