April 20, 2015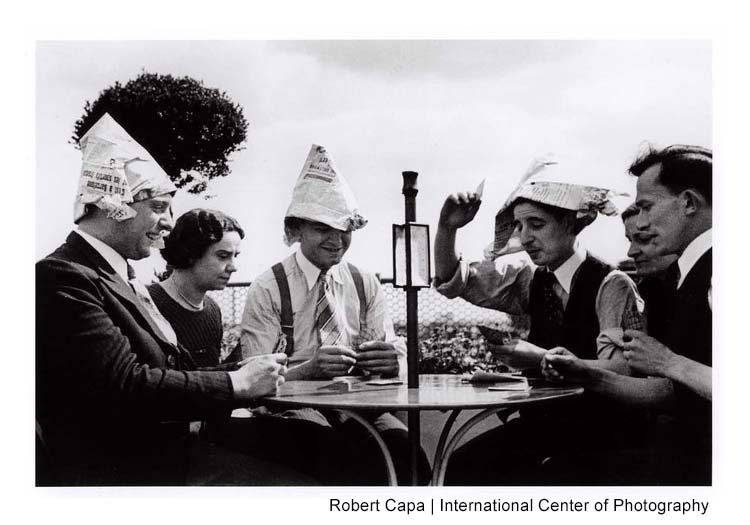 The new public program at ICP is conceived with a special focus on multimedia storytelling, social media platforms, new narrative tools, and entrepreneurship, while still being aligned with the fundamentals and historic values of ICP which was originally founded as The Center of Concerned Photography.
The three foundation columns of the program will offer the audience to learn, explore and educate themselves in today's quickly changing environment - from classic masters of photography to new media entrepreneurs and visual storytellers. ICP is offering a curated program and continuous conversation about the challenges and innovative measures in today's world of photography.
1/ #ICPmeetup - Photography & Entrepreneurship
The landscape and context of photography are changing so drastically that it is hard for photographers to keep up with what's at the forefront of their trade. In these monthly meet ups we present and discuss with the most exciting established or upcoming start-ups and the founders of companies and platforms that are actually changing the tools and boundaries of photography. The concept of the creative entrepreneur will be presented in many different ways by these founders and the ICP audience has the opportunity to not only learn about these platforms but to also meet the founders over drinks after the presentations.
2/ #ICPtalks - Talks and Panels
The most traditional format of programming featuring talks, panels, photographers presentations, etc. On top of traditional process and master photographers presentations we will also present young and unconventional new storytellers sharing their challenges and work with the audience.
3/ #ICPworkshops - HOW TO?
Monthly short and straightforward workshops about current key learning points and tools of the trade that might seem logic yet often out of reach or hard to grasp or stay in touch over. For professional and novice photographers alike…
HOW TO - instagram? Professionals with 50-500K+ followers share their methods and insights
HOW TO - data visualize? Apps to use and and data sources shared.
HOW TO - code and hack an image? What data do I share without knowing?




ICP Public Program Schedule Spring 2015
Wednesday, April 22, 2015
TELLING STORIES DIFFERENTLY - Activism and Engagement in the Age of New Media | #ICPtalk
Moderator: Danielle Jackson,
Panelists: Kavita Gupta, Michael Premo, and Sebastian Meyer.
Wednesday, April 29, 2015
#ICPmeetup | NEW NETWORKS / NEW MODELS IN PHOTOGRAPHY
Moderator: Studio 55
Panelists: Julien Jourdes, Andy Yang and Jordan Osher
Friday, May 1, 2015
IN CONVERSATION WITH GRACIELA ITURBIDE | #ICPtalk
Speaker: Graciela Iturbide
Moderator: Iliana Cepero
Wednesday, May 6, 2015
THE RISE OF THE DRONES / Privacy, Power and Storytelling | #ICPtalk
Moderator: Stephen Mayes
Panelists: Tomas Van Houtryve, E. Adam Attia a.k.a ESSAM , and Brandon LaGanke with John Carlucci.
Wednesday, May 13, 2015
HOW IS INSTAGRAM CHANGING THE WORLD? | #ICPtalk
Moderator: Fred Ritchin
Panelists: Austin Merrill, Elodie Mailliet Storm and Youmna Chamcham.
Wednesday, May 20, 2015
#ICPmeetup | PHOTOGRAPHY AND NEW STORYTELLING PLATFORMS
Moderator: Brian Storm
Panelists: Evan Ratliff, Erich Nagler and Jay Geneske.
Wednesday, May 27, 2015
HOW TO INSTAGRAM | #ICPworkshop
Experts: Anka Itskovich and David Krugman. and Miki Meek..
Wednesday, June 3, 2015
HOW TO FLY DRONES | #ICPworkshop
Instructors: E. Adam Attia aka ESSAM
Wednesday, June 10, 2015
NEW BUSINESS MODELS IN PHOTOGRAPHY | #ICPtalk
Moderator: Studio 55
Panelists: Sara Walker, Kenneth Schlenker Co-Founder and CEO of ArtList & Gertrude and Nur Elektra El Shami.
Wednesday, June 17, 2015
CATHERINE LEROY, PHOTOGRAPHER OF THE VIETNAM WAR
World Premier Movie Screening - Director: Jacques Menasche will be present.
ICP Public Program Schedule Fall 2015
Saturday, September 19, 2015
INSTAREVIEW at PHOTOVILLE | #ICPworkshop
Moderator: Studio 55 | @st55nyc
Panelists:
Malin Fezehai | @malinfezehai
Anka Itskovich | @thelineup
Glenna Gordon | @glennagordon
Katie Orlinsky | @katieorlinsky
Wednesday, September 30th, 2015
The Representation of War - from Capa to Instagram | #ICPtalk
Moderator:
Fred Ritchin, Dean of ICP
Panelists:
Sebastian Meyer, Co-founder of Metrography Agency
Carolyn Cole Photographer of Los Angeles Times
Michael Christopher Brown
Stefano Carini, Editor-in-Chief Metrography Agency
and Cynthia Young, Curator of the Robert Capa Archive at ICP.
Wednesday, October 14, 2015
SOUTHERN RITES by Gilian Laub | #ICPtak
Speaker
Gillian Laub
Wednesday, October 21, 2015
# ICPmeetup | CAN DISRUPTIVE TECHNOLOGY STILL REVOLUTIONIZE PHOTOGRAPHY?
Moderator: Noah Robischon, Executive Editor, Fast Company.
Panelists:
Denis Nazarov, CEO of Mine, Matthew Zeiler, CEO of Clarifai and Jean-Marc Alexia, Senior Director Product Management at DxO
Wednesday, November 04, 2015
CROWDFUNDING: DO'S AND DONT'S | #ICPworkshop
Moderator: Studio 55
Panelists:
Romke Hoogwaert | Kickstarter project: Mossless
Thomas Holton | Kickstarter project: The Lams of Ludlow Street
Robin Schwartz | Kickstarter project: Amelia and the Animals
Wednesday, November 18, 2015
TELLING STORIES THROUGH TECHNOLOGY: 3D, VR, AND PHOTOGRAPHY IN TODAY'S IMAGE MAKING | #ICPtalk
Moderator: Julia Sourikoff, Producer at The Future of StoryTelling
Panelists:
Matthieu Lorrain, Creative Innovation Lead, The ZOO, Google.
Caitlin Burns, COO at Datavized
Tatjana Dzambazova, Technology Whisperer at Autodesk
Subrata De, Vice President of Multi-Platform Newsgathering, ABC News.